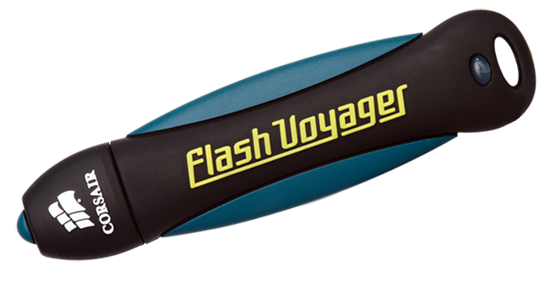 I was beginning to think the phrase  "reliable USB Flash Drive" was an oxymoron. I am notoriously hard on my flash drives. They always reside in my pocket, getting bent, twisted, squashed, etc.
I was going through flash drives like my dog goes through squeak toys. Getting tired of shipping drives back for replacement, I thought that there surely must be a company out there that makes more rugged flash drives.
Well I was right. I found a company called Corsair that makes a product Called the Flash Voyager.
Perusing the product literature, I came across these words:  "With its durable rubber housing protecting your data, Corsair's Flash Voyager provides a safe, convenient way to carry your data. Its unique design fits easily in a pocket or purse and is tough construction stands up to all kinds of abuse."
Music to my ears. But does the product live up to the marketing-speak? Well, after 8 months of living in my pockets, I can absolutely say YES.
Current capacities for this product go as high as 64GB , but the best value seems to be the 32GB model, which can be found at newegg.com for $110.
More information on Corsair products can be found HERE.