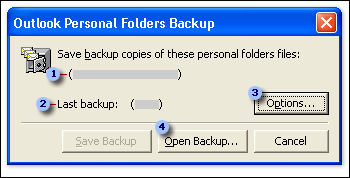 Unless you are using a Microsoft Exchange Server e-mail account or an HTTP account, such as Hotmail or Gmail, all of your Outlook data (messages, contacts, appointments) is stored in a Personal Folders file (.pst).
By default, this file is stored in a not-so-easy-to-find folder on your computer's C: drive.  Even if you are conscientious about backing up your My Documents folder or your Quicken/Quickbooks data, your email data is not included.
Most Outlook users I come across with a pop3 email account have absolutely no backup of their email and don't even realize it.  Can you picture suffering a hard drive crash and losing the last 5 years or more of email messages and all your contacts?
No, you don't want to picture that.  Fortunately, there is a simple solution that won't cost you a dime. Microsoft has a free downloadable utility called the PST backup tool.
You can download the tool HERE.
Instructions on using the tool can be found HERE.
PLEASE, take a few minutes to do this. Remember to save the backup to a server, external hard drive, USB thumb drive, or anything other than your local C: drive.
I hope you never experience a disk crash (I have), but if you do, I'm sure you'll be thanking me.