Do you turn your Windows computer on and then go look for something else to do? Is the hourglass your constant companion at startup?
Well, there is a quick and easy thing you can do which will instantly shorten your computer start-up time. Meet your new best friend, the Windows MSCONFIG utility.
Using this tool, you can speed up the startup time of almost any Microsoft Windows PC. As programs get installed in Windows, many of them have utilities that are set to start up every time Windows starts.
While some of these programs can be useful, there is no reason they have to be set to automatically start up and be continually running.
It's easy to disable some of these optional programs, like Windows messenger, Yahoo messenger, Adobe Reader, QuickTime, GoogleUpdater, printer utilities and many others.
To use this utility, you will need to be logged into your computer with administrative rights.
For Windows 7 or Vista, Click the Start button and type msconfig in the search box and then press Enter. If you have Windows XP, you'll need to click the start button and then "run" before typing in msconfig.
(You can find step-by-step instructions for whatever Windows operating system you have, HERE.)
A small System Configuration Utility dialog box will appear. Select the "Startup" tab and uncheck the applications that you want to disable from windows startup. Here an example of what the screen will look like.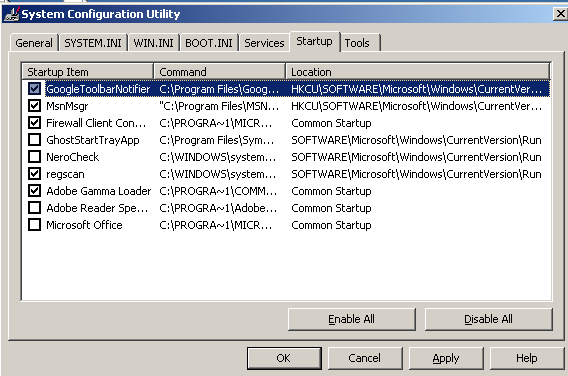 A note about making changes. Be sure you don't uncheck anything that pertains to your antivirus program. Expand the command column to see what vendor has installed each program. If you see McAfee, Symantec, Norton, Webroot, Trend Micro, AVG or other antivirus vendors mentioned, leave those alone.
After making your changes, click on the Apply button to implement the changes then click on OK button to end the configuration process.
You will need to restart your computer for the changes to go into effect. Assuming you had quite a few programs to disable, your computer should now start up much quicker!